We're proud to be sponsoring a general session again at the 77th Annual NYS AHPERD (New York Association for Health, Physical Education, Recreation, and Dance) Conference. The conference is taking place November 19th-22nd at the Turning Stone Convention Center in Verona, NY.
We've participated in the conference many times in the past and have presented on PEP and other grant opportunities for attendees. Due to scheduling conflicts we will not have team members at the conference this year, but we will have a table with business cards, company signage, and an ad in the program. We are also making some fresh fruit available immediately following the general session we are sponsoring. That session is taking place on Thursday from 9:25 A.M. to 10:40 A.M. in the Showroom. The speaker during the session is Dr. Joe Martin, an award-winning motivational speaker, author, professor and educational consultant. Get more information on Dr. Joe Martin here.
For attendees interested in discussing our grant writing, editing, or evaluation services please contact us via email at info@insightgrants.com, by phone (716) 474-0981, or fill out our easy online form here.
Our program ad is below. We hope all attendees have a successful conference and come away with a lot of great ideas!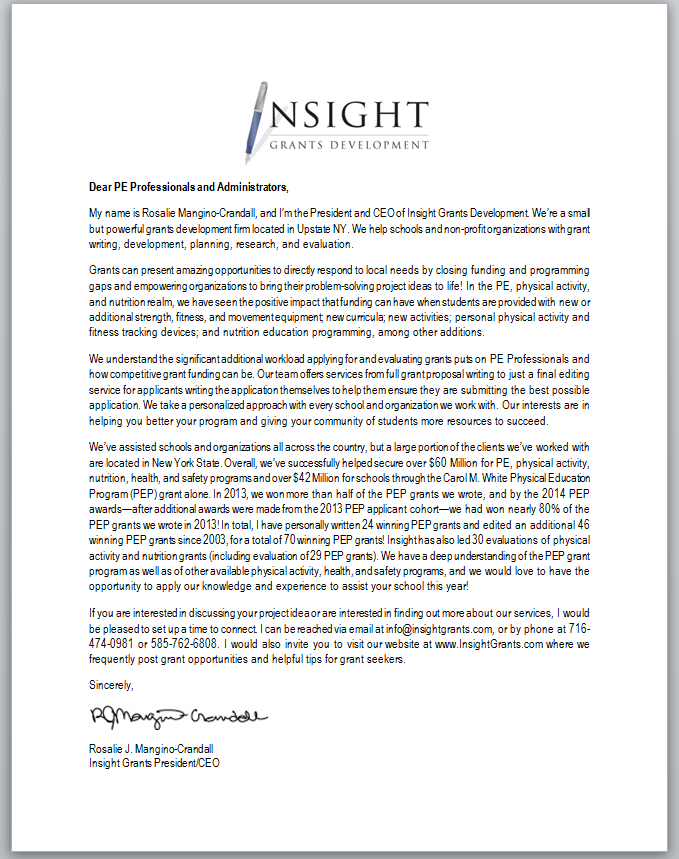 Our friends over at Polar USA recently published three new articles that we've written, "The SHI: Creating a Snapshot of School Health for Improvement Purposes",  "Should I Apply for a Research Grant?", and "US Department of Education 2015 Forecast of Funding."  All three articles can be found under the Helpful Information for Grant Seekers section on Polar's website.
The article on the CDC's School Health Index (SHI) covers the basics of the tool as well as noting recently-made changes and some helpful tips for getting the most out of it. The research grant article is a must-read for individuals and organizations considering whether to apply for a research grant. The US Department of Education (ED) recently began updating it's Discretionary Grant Programs for Fiscal Year (FY) 2015, and the article covers how schools can best use the tool for a planning guide.
See the articles here.
The New York State Education Department (NYSED) recently posted a list of preliminary awardees for the Strengthening Teacher and Leader Effectiveness Dissemination Grant: Principal Leadership Competitive Grants Program  (STLE 4/D):  Congratulations to all of the winners, including Insight Client Alden Central School District, NY. The Insight team worked with Alden in writing their grant which is scheduled to be funded in the amount of $217,000!
To learn more about the program view the New York State Education Department press release here.
The 2014 Assistance to Firefighters Grant Program (AFG) opens this Monday, November 3rd, 2014. Applications are due Friday, December 5th at 5:00 PM EST. Full details on the program are available at the AFG Program section on fema.gov.
AFG is a large program that awards competitive discretionary grants comprised of three interconnected component programs – Operations and Safety, Vehicle Acquisition, and Joint/Regional. The purpose of the program is to enhance, through direct financial assistance, the health and safety of firefighting and unaffiliated EMS personnel and to provide a continuum of support for emergency responders regarding fire, medical, and all-hazard events. The objective is to award grants directly to fire departments, non-affiliated EMS organizations, and State Fire Training Academies (SFTAs) for critically needed resources to protect the public, train emergency personnel, foster interoperability, and support community resilience.
For those interested in the program who haven't already had a chance to attend an official 2014 AFG workshop, you can view the presentation online here.
We are offering three different services for this year's 2014 AFG Grant:
Full grant narrative writing, completion of the online application, and submission of the full application
Grant narrative writing (only)
Grant narrative editing (only)
The AFG program does allow applicants to include a specified amount for grant writing costs in the application and may reimburse up to that amount as part of an award, if an award is made. If you are interested in discussing our services, please contact us via email: info@insightgrants.com or fill out our online submission form here.
Best of luck to all 2014 Assistance to Firefighters Grant Applicants!